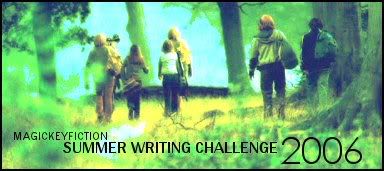 magickeyfiction
'S SUMMER WRITING CHALLENGE.
Despite all the sun the UK has seen lately, I'm not feeling the Summer vibe.
Your challenge is to write a
one shot fiction,
on the theme of 'Summer', we've got some great prizes ofr the winners. They are as follows;
1st prize- Two Months paid account, and +100 userpics.
2nd prize- a $5 Livejournal Voucher
3rd Prize- 100 Userpics add on.
4th prize- A creative dance to represent your success, performed by 'professional' dancers
Excited? I am! But, as always, there are rules;

1.Your one-shot may be any length, but it must be a one-shot.
2.Your fiction may include any ship, and any Harry Potter Characters that you wish.
3.Please do not submit fandom cross-overs.
4.Please spellcheck, and grammer check your fiction before submitting. This will help your chances.
5. Your fiction will be judged by our judges, and given their place.
Please remember that not everybody can win.
6. Be creative
7. You may submit more than one entry.
8. You may not post your work anywhere else, until the challenge is over.
9.The theme must be SUMMER, but it can be any genre.
10. Have fun! And tell your friends!
Please email your submissions to
word_waterfall@hotmail.co.uk
, Please place Magickeyfiction entry in the subject box, and include your Livejournal username in the email.
The Challenge closes on the
31st of July
, In Time for Harry Potter's birthday! That gives you just over a
month
to write your entry!
Come and take part!
Please comment on the
ORIGINAL POST
with any questions you may have.
^_^